The Handwork Studio LLC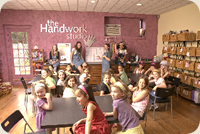 Regardless of your child's age or ability, Craft Cruises for Kids will introduce kids to the joys of handwork.  Kid cruisers will spend their time moving between creative activities such as knitting, crocheting, embroidery, hand and machine sewing and crafts.
The Handwork Studio, a kids' needle arts and fashion studio is proud to bring their award winning program to Craft Cruises.  With over 9 years experience in developing programs that kids love, The Handwork Studio knows what kids want.  On this cruise we will be bringing the best of our projects for the kids to enjoy.  Projects will include fashion accessories, room decor, toys, stuffed animals, clothing and crafts.
Every workshop will be focused on a fun summer time based theme.  Each activity will use various skills so your kids will be exposed to a multitude of fun activities, regardless of their experience. Each project will be broken down into stations so that the children will spend their time moving between activities, making the day move quickly and keeping their attention.
While the kids are having a great time, they will be developing skills without even knowing it.  Handwork helps kids with their math skills.  Addition, subtraction and fractions are a big part of knitting and machine sewing.  Kids will work on their fine motor skills while learning to thread needles, sew stitches, knit and crochet.  What goes better with crafting than sitting and chatting with your new friends?  Kids' can join in on the conversation when they are comfortable, or listen quietly while they work.  The Handwork Studio works to integrate all kids into the conversation and make sure that all topics are appropriate for every age.  Lastly, each project takes time and patience to complete.  We work with the kids to slow them down and have them concentrate on the task at hand, work thoughtfully and walk them through the process without getting frustrated.
When the cruise is over, your children can continue to learn about needle arts through MyHandworkStudio.com.  This online kids' social networking site will remind them of the skills they learned onboard the cruise.  Through online tutorials and projects, the kids can reinforce their learning and give them lots of project ideas to make as well as play games, shop and talk with kids with a similar interest.  The learning never ends!
Craft Cruises for Kids is a unique opportunity to have your children experience The Handwork Studio needle arts program, where learning and fun is our primary focus.
BIO ~ The Handwork Studio LLC
Started in 2001, The Handwork Studio is the leading educator in teaching needle arts to kids ages 5-15.  Through its four business segments; the studio, the camps, the internet and merchandising, The Handwork Studio reaches over 2,500 kids annually.
The Studio offers after school classes, workshops, birthday parties, troop and school visits.  The Handwork Studio works with the Girls Scouts of Eastern Pennsylvania and Southern and Central New Jersey providing programming, badge workshops and leader training.
The Camps offer three unique programs in 4 locations, with 3 more openings scheduled for 2010 1) Handwork Day Camp for kids in grades K-6 teaches knitting, crocheting, embroidery, needle felting, hand and machine sewing.  2) Machine Sewing Camp for kids in grades 5-10 teaches all the basics of pattern reading and machine sewing.  3) Fashion Bootcamp for kids in grades 7-11 is a program where kids learn to express themselves through fashion design. Campers will learn to sketch, design, sew and model a collection as well as go on field trips to the Philadelphia fabric district and NYC's garment district.
The Internet: MyHandworkStudio.com, an online kids' social networking site, was developed in 2008 as a compliment to the "in studio" needle arts experience.   Kids can take what they learn in the studio and continue their learning through the use of "how to videos", project plans, blogs, video games and an online shop.  MyHandworkStudio.com also reaches kids who don't have the opportunity to participate in classes at the studio.
Merchandising:  In 2009, The Handwork Studio produced it's first kids' craft kit and has been imprinting it own needle arts tools for years.
Our staff is comprised of professional artists, instructors and skilled teachers dedicated to making each student feel special.  The result:  Making really cool projects with new friends while having Fun! Fun! Fun!
Professional affiliations and industry memberships
-The National Needle Arts Association
-The Craft and Hobby Association
Awards or recognition
-2007 Main Line Times Readers' Choice Award
-2007 Main Line Life The Best of Life Award
-2008 Nickelodeon's Parents' Choice Award-Best Big Kids Classes
-2008 Best of the Best Readers' Choice Main Line Times-Best Kids' Camp
-2008 Main Line Today-Best Teen Fashion Design Program
-2009 Nickelodeon's Parents' Choice Nomination for best art class (winner not yet determined)
-MainLine Magazine's Top Pick
Books ~ The Handwork Studio LLC
The Handwork Studio has been profiled in many industry, consumer and local publications. They have contributed craft articles to Toy Tips Magazine and have been featured in Girls Life Magazine, Sew Simple Magazine and SQE-Sewing*Quilting*Embroidery Professional among others.
Ms. Kelly, is a host on Comcast's On-Demand/ActivityTV, KnittingDailyTV.com and the Studio has aired on PBS Sprout, All That and More, The 10!Show and Mom's on the Move.
Affiliations ~ The Handwork Studio LLC
The National Needle Arts Association (TNNA)
The Craft and Hobby Association (CHA)
Education ~ The Handwork Studio LLC
Laura Kelly, founder of The Handwork Studio, background in working with kids started when she was 10 years old.  Working first as a babysitter, then as a resident assistant in college and then as an au pair in France and Germany, Laura has always loved being with kids.  With a degree in marketing from Northeastern University, she worked for years in Manhattan in the corporate world, first in travel and then in computer consulting on Wall Street.
As a child, she remembers making an A-line skirt in home ec and watching her mother embroider.  However her love of crafting didn't really start until she began knitting after the birth of her children 15, years ago.
When looking for a school for her kids, Laura visited a private school where handwork was a part of the curriculum, Laura was moved by watching kindergartners hand sew, first graders knit and third graders embroider.  To her, handwork looked and felt like love.  With her background in business and her perspective as a mother, she knew that other moms might also want their children to learn these calming and nurturing skills.
The Handwork Studio was born at Laura's kitchen table in 2001.  After two years of holding sold out classes in her home, she decided to take a risk and move the studio to a commercial location.  As she raised her own two children Ryan, now 15 and Devon now 14, she applied her business skills with what she learned about child development and handwork and created a comprehensive program for kids ages 5-15.  Since Laura was a knitter herself she started with knitting classes for kids.  Over time, with the addition of many talented teachers, the program grew to include crocheting, embroidery, needle felting, rug hooking, quilting, hand and machine sewing and fashion.