Tanis Gray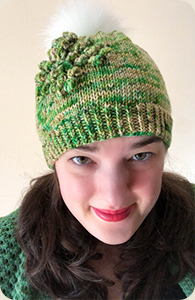 After being handed yarn and needles as a young child, Tanis Gray found her calling in fiber and design. There's something truly amazing about this utilitarian craft that transforms raw materials into a beautiful garment that can last for generations.
Knitting is a craft best learned in person, and Tanis has spent years honing both her skills and teaching style across myriad types of media. Having started her teaching career over 20 years ago helping her mother teach young adult art classes, and today hearing over and over from her students that she's taught them "the best class they've ever had," she takes a practical approach with a healthy dose of whimsy and humor, going beyond the how while taking the time to explain the why. While it's wonderful to know how to do something, knowing the why is what makes a knitter exceptional and confident.
A firm believer in learning something new every day and seeing the potential in everyone, Tanis takes delight in passing on her skills and knowledge to fellow knitters in both technique-driven classes and project-based workshops. She considers it an important part of the craft to teach others as much as they wish to learn and spread her joy of knitting. Her patience, knowledge, and love affair with knitting is something she hopes to share with her students as we sail the high seas.
BIO ~ Tanis Gray
After graduating from RISD, Tanis freelanced for Martha Stewart Magazine, HBO Family, Focus Features, and in the art department in the film and television industry. She switched gears to focus on her love of fiber and was the Yarn Editor for Vogue Knitting and Sixth & Spring Books for 4 years. She started TanisKnits in 2009 and went on to film multiple online Fair Isle classes for Craftsy, myriad online classes for Interweave, was a regularly-featured guest on 3 seasons of Knitting Daily TV on PBS, has published 8 knitting books, and has over 500 published knitting designs in books and magazines worldwide.
Books ~ Tanis Gray
Tanis Gray is the author of Knit Local: Celebrating America's Homegrown Yarns (2011, Sixth & Spring), the winner of a gold IPPY Award; Capitol Knits, (2012, Self-Published) a knitting and history book inspired by Washington, DC and national winner of the DAR American Heritage Women in the Arts Award; Knitting Architecture (2013, F&W/Interweave), a collection of designs inspired by well-known architecture; Cozy Knits (2013, F&W/Interweave); From Mama, with Love, (Self-Published) an ebook collection from designer friends and mothers; 3 Skeins or Less – Fresh Knitted Accessories (2014, F&W/Interweave), a modern collection of garments and accessories all knit in 3 or fewer skeins of yarn; Wanderlust – 47 Modern Knits for Bohemian Style, (2015, F&W/Interweave); Modern Baby Knits (2016, F&W/Interweave), a collection of knits for babies and children on the go with fuss-free designs; Gradient Knits (2017, Barron's) a complete course of beautifully and profusely illustrated instruction under one cover using gradient yarns, Knitting Magic: The Official Harry Potter Knitting Pattern Book (2020, Insight Editions), the first and only official knitting book based on the Harry Potter films by Warner Brothers, and Knitting the Galaxy: The Official Star Wars Knitting Pattern Book (2021, Insight Editions), the first and only official knitting book based on the original 9 Star Wars films by Lucasfilm.
Affiliations ~ Tanis Gray
Tanis is a proud member of the Martha Washington Chapter of the Daughters of the American Revolution (DAR), and the Washington DC Chapter of the Mayflower Society. A member of TNNA, she also teaches frequently at the award-winning knit shop, Fibre Space.
Education ~ Tanis Gray
Tanis graduated from the Rhode Island School of Design (RISD) with a BFA in Film, Animation, and Video.