Myra Wood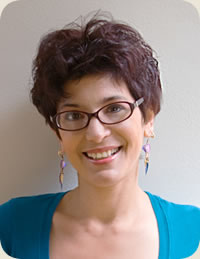 There is nothing Myra Wood loves more than inspiring people creatively. Her sense of wonder and play is completely contagious. Myra believes everyone has a creative side and she wants to help people discover or rediscover what that feels like. Myra is definitely "the glass isn't just half full, it's full and overflowing" kinda gal.
Myra feels truly blessed to live a creatively inspired life. From a very young age, her mother encouraged arts and craft of all kinds, especially needlearts. Instead of buying toys, they'd have numerous projects going on at the same time. They made lots of "stuff". But most importantly her Mother taught her how to think outside the box.
More than just teaching techniques, Myra Wood inspires people. She has an incredibly optimistic attitude and can't help but encourage anyone brave enough to take the creative plunge. She sees knitting and crochet as an opportunity for self-expression, a way to discovery and growth.
Myra loves the creative process. Part of that process is guiding others away from negative thinking about their own artistic abilities and helping them discover a sense of play and wonder about knitting and crochet that they may not have experienced before. And all in all, Myra is just plain fun to be around.
Myra is also the moderator for the International Freeform Crochet Guild with over 1800 members worldwide and coordinator for their annual shows.
Awards or recognition
• Numerous awards for graphic design and illustration
• 2004 Best of Show, Santa Monica Fiberfest, freeform vest
• 2007 Best Freeform Fiber Art, Los Angeles County Fair
BIO ~ Myra Wood
Myra Wood is an internationally known, award winning fiber & bead artist, teacher and designer. She teaches a wide range of classes in knitting, crochet, beading and embroidery, specializing in all things freeform. She's appeared on numerous episodes of Knitty Gritty and Uncommon Threads for the DIY & HGTV networks along with publishing a number of jewelry and clothing patterns in a wide range of books and magazines as well as her own book on Creative Lace.
Books ~ Myra Wood
Myra Wood's published books include:
-Creative Crochet 2008
-Art Lace Knitting 2009 Fall
-Through Our Eyes: Fiber artists express their view of life through yarn 2007
Affiliations ~ Myra Wood
Professional affiliations and industry memberships.  • Professional Member and mentor Crochet Guild of America • TNNA, The National Needlearts Association • Sand and Sea Knitting Guild, chapter of TKGA • CHA member, Crat Hobby Association • International Freeform Fiberarts Guild
Education ~ Myra Wood
1975-1979, PA Academy of Fine Arts (Majored in painting)
1979-1981, Studio School of Art and Design