Melissa Leapman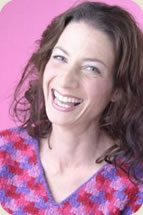 Instructor Website:
Melissa Leapman was born in Pittsburgh, PA and loves classical music.  She studied piano as a child and is now one of the most sought after instructors in the knitting industry.  She is a widely published designer whose patterns have appeared in all of the top knitting publications.
Melissa Leapman teaches a wide range of knitting and crocheting techniques and belongs to a new generation of needle artists who are modernizing old techniques to create sophisticated sweaters and vests.  Melissa Leapman is excited to teach onboard a Craft Cruise and to be inspired by the fabulous ports of call in the Mediterranean.
BIO ~ Melissa Leapman
Melissa Leapman is a widely-published designer, who has published patterns in every premiere needlecrafts publication in the country. As a freelance designer, Melissa has worked with many leading ready-to-wear manufacturers and design houses in NYC.
In addition, over the years, most American yarn companies have commissioned Melissa Leapman to create designs to promote their new and existing yarns. Melissa has been a featured guest on Lifetime TV's "Handmade by Design", HGTV's "Sew Much More", PBS's Needle Arts Studio, and the DIY Network's "Knitty Gritty".
Books ~ Melissa Leapman
Hot Knits
Cool Crochet
Knitting Beyond Scarves
Cables Untangled
A Close-Knit Family: Sweaters for Everyone You Love
Crochet With Style: Fun-To-Make Sweaters for All Seasons
Sweaters for the Family
Continuous Cables (due Fall of 2008)