Mary Beth Gower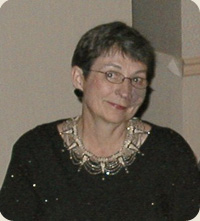 Instructor Website:
Craft guru and artist, this Pocono Mountain native has been beading, knitting, tole painting, quilting and creating beautiful landscape gardens for many years. Several years when beaded evening bags became the craze, she shifted her interest in beading into high gear and has mastered even the most difficult beading techniques.
Mary Beth is not only an amazing bead artist but she has the ability to teach others to pick up the needle and thread and become bead artists themselves. Mary Beth can teach beginners how to become creative beading artists.
Mary Beth's love for the craft and her extensive travel knowledge combined makes cruising with her memorable for all. Mary Beth has been cruising since 1989 and will share her enthusiasm with you.
Mary Beth lives in Gouldsboro, PA.
BIO ~ Mary Beth Gower
Mary Beth traveled the world with her husband and children for over 21 years as the wife of an army officer.  She worked as a registered nurse in intensive care, then in transitional open heart and finally in private duty care until she retired several years ago.

Now, although she calls the Pocono Mountains home she lives part of the year in Steamboat Springs, Colorado where her two sons and grandson live.

As a child, Mary Beth learned many arts and crafts from her Mother, who was an avid hooker (rug hooker that is...).  Mary Beth shared that love of arts and crafts with her daughter, Melissa Gower, the founder of Craft Cruises.
 
Education ~ Mary Beth Gower
Mary Beth attended IUPUI in Indianapolis, where she earned her degree in nursing.