Margaret Holzmann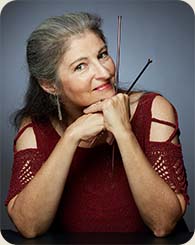 Margaret Holzmann specializes in geometric patterns and enjoys designing the big things: sweaters and blankets, using them as a canvas to explore color and shapes. Margaret's "new colorwork" approach has opened up many new knitting possibilities.
Margaret considers herself open-minded, is interested in learning new things, and thoroughly enjoys new experiences. In addition, she is friendly and is looking to make new friends and connections through travel.
BIO ~ Margaret Holzmann
Margaret Holzmann likes to design and excels at large construction techniques, the geometry of knitting, and color theory. Following a career as an engineer at Bell Labs and Jet Propulsion Laboratory, Margaret Holzmann is now a full-time knit designer and is just embarking on her career as a knitting instructor.
Books ~ Margaret Holzmann
In addition to her books, Margaret's patterns have appeared in many knitting publications. Her published work includes Geometric Knit Blankets, March 2021, published by Stackpole Books. Fifteen patterns in Interweave Knitting, Annie's, Knit Picks collections, etc. Successful Indy patterns such as the "Safe at Home Blanket" (March 2020) and 4 Blanket designs for Webs (October 2021).
Affiliations ~ Margaret Holzmann
Margaret Holzmann belongs to TKGA (the national organization and her local chapter in Burbank, CA), The Assistance League (nationally and locally in Arcadia, CA,) and Pi Beta Phi Alumni.
Education ~ Margaret Holzmann
Margaret Holzmann earned both a BS and MS in Industrial Engineering from the University of Michigan, Ann Arbor, and learned to program computers on the job. She worked as an engineer for thirty-two years. Although Margaret has no formal knitting training, she has been knitting for over fifty years and designing for the past eight.