Lucy Neatby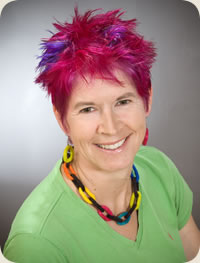 Lucy Neatby is one of the most sought after instructors and is a fun traveling companion. Lucy finds joy in sharing techniques and her passions with others and is very inspirational. Lucy and her husband John moved from South Wales to Halifax in the early 1990's.
Lucy Neatby is now what some refer to as an empty nester since her kids have moved out on their own but her home and studio are far from empty with wonderful yarn and project workspace now replacing their space.
BIO ~ Lucy Neatby
Lucy Neatby is a passionate knitter, who designs and writes patterns to entertain the mind as well as the fingers. Lucy has an eclectic fashion sense and loves mixing lots of vibrant colors. Lucy Neatby shares her love and knowledge of the art of hand knitting by giving a myriad of entertaining workshops. Lucy Neatby has won many design competitions, including The Knitting Guild of America's International Design Challenge and her work has been exhibited widely. She is former Merchant Navy navigating officer and now the owner of Tradewind Knitwear Designs.
Books ~ Lucy Neatby
Lucy is the author of "Cool Socks Warm Feet" and the Learn with Lucy DVD series.
DVD List:
Knitting Essentials 1 & 2
Sock Knitting Techniques 1 & 2
Knitting Gems 1, 2, 3 & 4
Finesse Your Knitting 1 & 2
Double Knitting Delight 1
Intarsia Untangled 1 & 2
Knitting Venus 1 & 2
Finesse Your Knitting 1 & 2
The Brand New Knitter
Affiliations ~ Lucy Neatby
The Nova Scotia Knitting & Cocoa Society
Education ~ Lucy Neatby
Born raised and educated in the UK, trained as a Merchant Navy Navigating Officer.