Lily Chin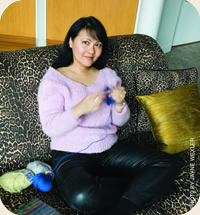 Lily has taught on several Craft Cruises and remains one of our most popular instructors. Lily Chin is a sought after designer, instructor, and author who has her own line of yarn known as The Lily Chin Signature Collection.
Lily has traveled extensively in China and speaks Chinese. She has an amazing ability to find yarn for sale in even the most obscure locations and is a lot of fun with a great sense of humor.
Lily loves to cruise and share her expertise and love of fiber with others. She has an amazing built in "yarn radar" making her an awesome "shopping" guide in in port.
Lily Chin's Heritage
Lily's family is from southern China, near Guangdong (or Canton). They were landowners when the Communist Revolution hit. Lily's father escaped into Hong Kong but her mother and older brother were jailed but escaped into Hong Kong where she gave birth to Lily's older sister.
Lily's dad came to the US but due to the discriminatory immigration laws at the time, could not send for the rest of his family. It took about ten years before they were united in New York. This is where Lily and her younger sister were born.
Traveling to China with Lily gives travelers a very unique perspective. Lily can speak enough Cantonese (with an English accent) needed to find all the local yarn shops along the way.
The first time Lily went to Hong Kong was in 1993 and it was love at first sight and she fit right in. She visited mainland China (Shanghai, Beijing, Xian) for her first time 1996 and felt like a complete and utter stranger. She had hoped to find some of her roots but didn't. Since then she has visited several more times to different regions (Guilin in the south, Macau, Lijiang and Zhongdian in the foothills of the Himalayas of Tibet). Lily's 8th trip to China was with Craft Cruises on a Viking River cruise down the Yangtze and the Three Gorges.
Lily Chin FAQ's - In her own words:
-How I learned to knit?
Born and bred in New York City, I learned to knit first at around age 8. Mom taught me the bare bone basics. She cast on about 20 stitches for me so she didn't teach me how to cast on. She taught me how to knit, but not to purl so I only did garter stitch. Next thing you know, the 20 stitches became 3 (note that ma didn't teach me how to bind off either). Though she never taught me how to decrease, I seemed to have don't that all by my lonesome.  Frustrated, I chucked the whole thing.
Desperate to keep me otherwise occupied (lest I do things like take apart the toaster " I was nicknamed "Many Hands" for a reason), she stuck a crochet hook in my hands. I took to it like the proverbial duck to water. I found it so much easier to manipulate only one hook instead of two needles. You didn't have to hold onto all those loops. Each stitch ended before you began another.
It wasn't until I was maybe 13 when I decided not to let that knit-thing get the best of me. I went back and mastered it eventually as well. I learned primarily from those booklets found at Woolworth's - remember them?
-How I got started designing?
I'd always designed, in a way. Not having patterns to follow at first, I winged it and made things up as I went. These were mostly doll blankets and doll clothes as well as some doll accessories. Soon, I started to do scarves and vests and hats.
When I found patterns in magazines, I thought I'd died and gone to heaven.  I started to follow patterns and that taught me even more.  I'd then start to adopt the patterns and change them to suit my needs.
In junior high school, I started to sell ponchos and doilies and such to friends' mothers, teachers, even the security guards!  In high school, I started to sell to friends.  In college, in order to pay for tuition and books, I answered a manufacturer's ad and began doing "production" pieces.  Pretty soon, the manufacturer had me designing original patterns of my own and providing directions for other production people to follow (and I thus had to provide the first sample model too, of course).
Frustrated at being paid so low the I felt exploited (I got $25 for an original hat pattern plus directions plus sample), I went to the publishers.  "I've been following patterns from these magazines for a while now, why can't I submit my designs to them now?," I asked.  Thus, I went to Woman's Day and showed them some samples.  They bought some accessories and they paid $150 for my original hat patterns.
Soon, I did got my own accounts for stores and did my own, making snoods for Capezio dance stores nationwide (Chicago. New York, Los Angeles).  I also did a few crafts fairs locally and did some custom orders from individual customers.
After getting a liberal arts education, what were my job prospects?  "Would you like coffee with your fries?"  Waitressing to make ends meet, I decided to fall back on what I've been doing all along.  I contacted magazines like Vogue Knitting, McCall's Needleworkd and Crafts (remember them?), Knitter's … I went full-time freelance in 1988 and quit the day job.
-Where I get my inspirations?
Everywhere, it's all around and you just have to see and realize it.  I'm very inspired by fashion, having worked in the NY garment industry since age 13.  I've studied art and art history.  Of course, my garment making background is extensive, especially when I supplemented my Queens College credits with classes at FIT or the Fashion Institute of Technology.
-What do I enjoy more?
Knit vs. Crochet – who can choose?  It's like asking which child you like better. Teaching vs. Designing – see above. Chocolate or Vanilla – butterscotch. Wool or cotton – no contest, but I do the occasional inelastic like silk or rayon, etc.
BIO ~ Lily Chin
Lily Chin was the first American knitwear designer to create a line of fashion yarns under her own name, The Lily Chin Signature Collection, launched in 2005 with CNS Yarns.
She has created couture crochet for the New York Fashion Week runway collections of designers Ralph Lauren, Vera Wang, Diane von Furstenberg, and Isaac Mizrahi, and her work has been on the backs of celebrities and super models, from Racquel Welch and Vanna White to Cindy Crawford and Naomi Campbell.
In the 1990s she was named a "Master Knitter" by Vogue Knitting International. In her career she has designed some outrageous garments, including an Absolut Vodka cozy for an international marketing campaign, a string bikini for the Sports Illustrated Swimsuit issue, and ready-to-wear for the Gap. She is regularly cited in media across the U.S., including Time, The New York Times, USA Today, The Washington Post, and New York Daily News, for redefining the image of today's knitter and crocheter.
Most recently, she's hosted the high-fashion knitting show, Stitchcraft, on the Oh! Oxygen network. Her other television credits include the Late Show with David Letterman, Martha,  CBS Morning News, ESPN's Cold Pizza, Fox & Friends, The Jane Pauley Show, CNN, HGTV, and more.
Lily Chin is the official spokesperson for the Orphan Foundation of America Red Scarf Project, which collect handmade scarves to send warmth and encouragement to America's college-bound foster youth each year in Valentine's Day Care Packages. Web site: www.orphan.org Lily Chin has lived in New York City nearly all her life and has been involved in some aspect of the fashion industry since age 13.
Books ~ Lily Chin
Lily Chin's books include:
Couture Crochet Workshop: Mastering Fit, Fashion and Finesse
Expressions – a Lily Chin Signature Collection pattern book
Knit and Crochet with Beads
The Urban Knitter
Mosaic Magic: Afghans Made Easy

Lily Chin has also contributed to:
Scarf Style (Interweave Press)
Wrap Style (Interweave Press)
Affiliations ~ Lily Chin
Crochet Guild of America (CGA), The Knitting Guild Association (TKGA), The National Needlecraft Association (TNNA), Big Apple Guild and the New York City Crochet Guild.
Named a Master Knitter by Vogue Knitting International
Became the CYCA/BHKC official fastest crochet in the world in 2002 and defended the title in 2004
Recipient of the TNNA Jubilee Award in 2005 for contributions to the needlearts industry
Education ~ Lily Chin
Fashion Institute of Technology
Queens College
City University of New York
Bronx High School of Science.