Kristine Brooks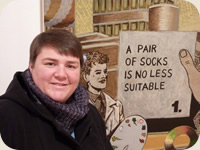 All of my life I have been fascinated by color, people and travel. The opportunity to cruise with like minded individuals is exciting. I like the idea of spending two weeks with other artists and discovering a new part of the planet with them while teaching classes and learning from one another. I am the type of person who is always noticing the color in life, whether it is rays of light, clay, sand, reflection, flowers, the sky or the eyes of a fellow traveler. I enjoy trekking about, having good conversation mixed with much laughter and learning new things every day.
I look at this travel/teach opportunity as a way to gain new friends, people I might never have had a chance to meet, to bond and learn about new forms of art and ideas, all the while experiencing a new part of our beautiful Earth.
I am a life loving person who wants to share knowledge, fun and laughter. I believe that sharing what we know is an art form in and of itself. Many artists are afraid of sharing everything as it somehow takes away from their exclusivity. I believe the exact opposite. By sharing everything I know, I am educated further when one of my students or friends shares their ideas or creative prompts from what I have taught or shared. Only in this way can people become better more thoughtful artists and humans. I look forward to our classes, but also the extended experience of shore excursions and frolics about the ship where we can further discuss the color and techniques we will be studying in classes.
Curious Creek Fibers was thought about, developed and born in a 1913 Craftsman style home in an uptown neighborhood of San Diego called North Park. Kristine, her husband and teenaged daughter bring their home to life with art, color and music, which is assisted by the location of their home on the edge of Switzer Canyon, a beautiful designated open space within the city, where no building is allowed. There is a huge bramble of blackberries, gorgeous trees and a wonderful assortment of wildlife including raccoon, fox, coyote, red tail hawk, raven, hummingbird and of course, domesticated house cats. Our yard is a very lively jungle that the cats can not resist and I am inspired in all forms of the art that I produce by my surroundings.
BIO ~ Kristine Brooks
For five years before I started CCF, I owned and operated a successful administrative and organizational management business, targeting business owners in the more affluent neighborhoods of San Diego such as Rancho Santa Fe, La Jolla and Coronado Island. I managed and organized the private and personal lives of high profile business owners by managing their homes, home staff, health care, child care, parties, events and extensive business and personal travel. I successfully ran this business for five years before I realized that I wanted to work in a less traditional industry, one that was more laid back and flexible, allowing me to express myself artistically. I wanted to utilize my love of color and the fiber arts in a way that would allow me to meet others who were just as mesmerized as I was with these wonderful skills and techniques, and live a life that allowed me to help keep these arts and techniques alive in our industrialized world. These feelings and ideas are what helped me make the decision to start Curious Creek Fibers.
For the past ten years I have taken a number of high quality multi-day workshops in the fiber arts from internationally and regionally known professional teachers ranging in the studies of color philosophy, weaving on a loom for fabric, tapestry and knotted pile weaving, wet felting, freeform textile creation, knitting-socks, techniques, mosaics, and freeform, spinning, and dyeing yarns and fabrics. These teachers, such as Sara Lamb, Sharon Costello, Estelle Carlson, Ginger Leuters, Debbie New, Prudence Mapstone, Loyce Erickson, Lucy Neatby, Judith McKenzie-McCuin and Maggie Maggio, are all my heroes, sharing their knowledge and enthusiasm for the fiber arts. Using their knowledge to fire us up and get us creating!
Books ~ Kristine Brooks
Curious Creek Fibers featured in the following books: No Sheep For You - Amy Singer New Twists on Twined Knitting - Laura Farson Toe Up! - Chrissy Gardiner The Enchanted Sole - Janel Laidman Knitting in the Sun - Kristi Porter Knitting for Dogs - Kristi Porter Knitting for Dummies - Kristi Porter One Skein Wonders - Sarah-Hope Parmeter Not your Grandma's Crochet - Amy Swenson Sensual Crochet: Luxurious Yarns, Alluring Designs - Amy Swenson
Bibliography of Favorite Fiber Arts Books The Art of Annemieke Mein: Wildlife Artist in Textiles Complex Cloth: A Comprehensive Guide to Surface Design - Jane Dunnewold Crochet Workbook - Sylvia Cosh & James Walter Creative Crochet Lace -Myra Wood Freeform: Serendipitous Design Techniques for Knitting & Crochet - Prudence Mapstone Alice Starmore's Book of Fair Isle Knitting - Alice Starmore Drawing on the Right Side of the Brain - Betty Edwards Color: A course in mastering the art of mixing colors - Betty Edwards Unexpected Knitting - Debbie New Barbara Walker Stitch Dictionaries Knitting Without Tears - Elizabeth Zimmerman The Ashford Book of Dyeing - Ann Milner A Treasury of Knitting - Cat Bordhi
Affiliations ~ Kristine Brooks
Professional Affiliations: Member-North Coast Knitters: a very active knitting guild in San Diego. Member-San Diego County Creative Weavers' Guild: a weaving guild in San Diego. Member-TNNA~ The National Needlearts Association: a trade specific organization for businesses within the needlearts.
Education ~ Kristine Brooks
I graduated from a small business school in San Diego with an AA in Business Management. I also have many years of college courses in all sorts of different areas under my belt from San Diego Community Colleges, as well as from University Nevada-Reno, but I never went for a full four year degree as I was more fascinated by the work I was doing and was being successful with an AA. I am now thinking about going for an MFA in order to be exposed to many more types of art, but for now I study as much as possible within the realms of my second business, Curious Creek Fibers.