Karen Morin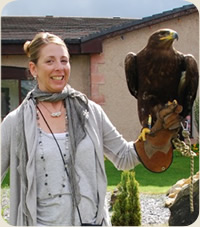 Karen learned to knit from her Nonni but didn't stick with it. It wasn't until she was pregnant with her son Jake that she got really serious about it and hasn't put down the needles since. Karen has been knitting seriously for over 20 years, teaches a range of knitting techniques and knits professionally for Norah Gaughan, a top designer on the design team at Berroco. Karen is also a jewelry artist and expert shopper.
As a Craft Cruises' trip leader, Karen enjoys traveling and meeting new people, especially knitters with like-minded addictions. She likes being helpful and making others find greater joy in their work. She also has a great interest in the shared travel experience and the instant community that is created on each Craft Cruises trip.
BIO ~ Karen Morin
Karen is a knowledgeable and experienced knitting teacher who has been teaching for over ten years. Karen is currently teaching at Woolwinders in Rockville MD. She teaches everything from beginning knitting and knitting with kids to leading more advanced project-based groups, knitalongs and knitting safaris. When Karen isn't knitting or traveling she is in her studio creating beautiful jewelry.
Education ~ Karen Morin
Karen has an AAS in Mechanical Drafting and a BS in Accounting. In 2000 Karen earned her teaching certificate from the Craft Council of America (CYCA) and she went to the Corcoran College of Art & Design where she learned metal smithing.