Karen Alfke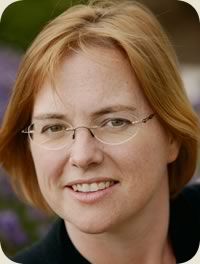 Karen Alfke has been designing her knitting patterns since she learned to knit in Germany nearly 30 years ago. She learned to knit and design at the same time, at the hands of an amazingly talented intuitive designer, her aunt Anne. Karen learned not to use other people's patterns: by keeping garment shapes simple, she learned you can change yarns and gauges and design elements at will simply by knowing the basics of gauge and garment design. The second phase of Karen's knitting education began when she returned to the States, where she translated her knitting knowledge into English and learned how to read patterns.
Since 1998, Karen Alfke has been developing 'Unpatterns' as a way to pass on the skills she learned from her aunt. Karen Alfke considers Unpatterns "design tools for the independent knitter." Rather than using stitch-by-stitch instructions, these tools walk the knitter through garment design with their own yarn and gauge. One of Karen's greatest joys is to see students come back wearing an Unpattern garment they've finished. The look of pride and ownership in their creation is priceless and Karen feels that not only has she helped create a pattern knitters enjoy working with, but also a new designers.
Karen Aflke founded 2nd Nature Design with the intention of creating more independent knitters through unique, understandable designs and quality instruction. Karen's mission is to create beautiful things and to make knitters more confident in their work. In addition to having her own pattern lines, Karen Alfke also write patterns for yarn companies. Sock Knitters who love Blue Moon Fiber Arts may be familiar with Karen's "Rock & Weave" socks.
Because Karen has a background in graphic design her patterns and visuals are outstanding. Great class materials and well written patterns really make a huge difference in helping students understand garment construction.
Karen Alfke taught German at the college level. Through this experience Karen gained not only knowledge on how to be an effective teacher but also the recognition that every student learns differently and that to increase the level of learning in her classes she recognizes that her job is to identify and use each student's strengths in the process.
BIO ~ Karen Alfke
Karen Alfke has dedicated her life to the love of the art of knitting and works full time designing and teaching. Karen Alfke teaches at Churchmouse Yarns & Teas on beautiful Bainbridge Island and also at the Madrona Fiber Arts Festival. She has been a keynote speaker at major events and also teaches at conferences, where she enjoys meeting knitters from all over the world.
Books ~ Karen Alfke
2nd Nature patterns and Unpatterns
Affiliations ~ Karen Alfke
TNNA and Seattle Knitters Guild
Education ~ Karen Alfke
BA, Comparative Literature, University of California Berkeley
MA, Comparative Literature, University of Iowa
Studied modern (20th-century) German and French literature
Minored in Women's Studies at Berkeley