Gayle Roehm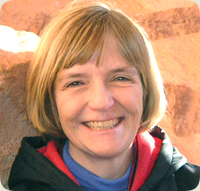 Join us and learn all about Japanese knitting from Gayle Roehm, who has been teaching knitters across the country how to enjoy these beautiful designs. Gayle majored in Japanese studies, speaks Japanese, and lived in Japan during and after her college years. She went on to business school and worked as a management consultant in many countries all over the world, including many visits to Japan. An avid knitter throughout her career, she has been using Japanese patterns for many years. With the rise of the internet, anyone anywhere can find a wide range of Japanese books and patterns, and her classes have been popular at events such as Stitches, Interweave Knitting Lab, Vogue Knitting Live, Yarnover, Madrona Fiber Arts Retreat, Sock Summit and many more.
Her designs have been published in several books and magazines, and for several years she translated Japanese patterns for Dancing Fibers (now Sunrise Yarns/Diakeito).
BIO ~ Gayle Roehm
Gayle comes to knit teaching after a long career as a management consultant. She worked for Booz Allen and Deloitte + Touche, among others, largely in the field of development consulting. Her clients included domestic and foreign government agencies, aid agencies and multinational development banks, as well as a number of private firms. In addition to her years in Japan, she spent three years in Singapore for Deloitte + Touche.
Books ~ Gayle Roehm
Gayle's designs have been featured in Knitter's, Interweave Knits, A Gathering of Lace, and other publications. She also sells original designs through a local fiber arts gallery. Her article about Japanese patterns appeared in Knitter's magazine in 1997, and was one of the first to appear in English on the topic. She also prepared the Japanese section for the book Knitting Languages.
Affiliations ~ Gayle Roehm
Board member, Potomac Fiber Arts Guild; member, Potomac Fiber Arts Gallery; translation staff (and general go-fer at TNNA) for Sunrise Yarns, US importer of Diakeito Yarns.
Education ~ Gayle Roehm
Graduated from Carleton College in Minnesota with a BA in Asian Studies, then received an MBA in international finance from Monterey Institute of International Studies.