Drew Emborsky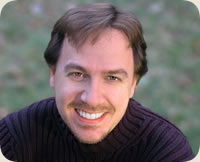 Award winning master crocheter Drew Emborsky, aka The Crochet Dude&reg: has quickly established himself as one of the hardest working success stories in the industry today. Drew's quirky title as "The Crochet Dude" and his kitschy tongue-in-cheek designs have propelled him from a young, unknown fiber artist to the cutting edge of the fiber design world. His books, tv show, line of products, and online fan-base continue to grow and flourish making him a much sought after instructor.
Drew Emborsky calls Houston, Texas home where he lives with his two cats, Chandler and Cleocatra.
BIO ~ Drew Emborsky
Drew became known as The Crochet Dude while working with a charity group after the passing of his mother. His time with the group eventually led to the launch of his popular blog with the same name, which led to the publication of his patterns and guest appearances on HGTV and the DIY Network. Drew has served on the board of directors of the Crochet Guild of America (CGOA). He has been featured in national publications including BUST Magazine, Interweave Crochet, Knit.1, Crochet Today!, Studio Magazine, Where Women Create, as well as international newspapers like The Sunday Telegraph (in London).
Fans also know Drew as the crochet expert for five seasons on the hit show Knit & Crochet Now; watch for new episodes airing now on PBS!
In 2010 Drew launched his signature line of crochet hooks, products, and accessories nationwide and in Canada. You can find The Crochet Dude Collection at your local yarn shop as well as at craft stores such as Michael's, Jo-Ann Fabric, etc. or by visiting this website:http://bit.ly/dDlHH7
Drew Emborsky provides design support to:
 
Fiesta Yarns
Tilli Tomas Luxury Yarns
Caron International
Lion Brand
Coats & Clark
South West Trading Co.
Conjoined Creations
 
Drew Emborsky has been published in these magazines:
 
Knit Simple
Crochet Today!
Crochet!
Interweave Crochet
Knit & Style
 
Drew Emborsky has appeared on these television shows:
 
Uncommon Threads (HGTV-DIY)
Knitty Gritty (HGTV-DIY)
Needlearts Studio with Shay Pendray (PBS)
Paint, Paper, & Crafts (PBS)
 
Breaking News! Drew Emborsky has been cast as a regular on the hit show Knit & Crochet Today as the "crochet expert"; watch for him in seasons 3 & 4 now on PBS!
Books ~ Drew Emborsky
Drew's books include:
Use Up That Yarn! (Leisure Arts 2012)
Hug It Out (Leisure Arts 2011)
Crochet It. Love It. Wear It! (Leisure Arts 2010)
In All Caps (Leisure Arts 2009)
All Washed Up (Leisure Arts 2009)
Sweet Pet Comforts (Leisure Arts 2009)
Must Have Handbags(Leisure Arts 2009)
The Crochet Dude's Designs for Guys (Lark Books 2008)
Men Who Knit And the Dogs Who Love Them (Lark Books - 2006)
Drew has also contributed to compilation books including:
Donna Kooler's Revised Encyclopedia of Crochet (Leisure Arts 2011)
Art Saves (North Light Books 2011)
Crochet For Bears To Wear (Potter Crafts 2010)
Crochet Prayer Shawls (Leisure Arts 2010)
Pop Goes Crochet (Lark Books 2009)
Crazy Aunt Purl's Home Is Where The Wine Is (HCI 2009)
Crazy Aunt Purl's Drunk Divorced and Covered in Cat Hair (HCI 2007)
Afghans for All Reasons & All Seasons (Leisure Arts 2007)
Kooky Crochet (Lark 2006)
Education ~ Drew Emborsky
Drew Emborsky studied fine art at Kendall College of Art & Design in Grand Rapids, Michigan.