Carol Bauer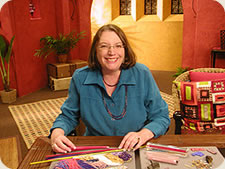 The bead bug bit Carol Bauer at the tender age of 12 when she was given a small beading loom.  As an adult Carol continues her love affair with beads and jewelry. She has worked with metal clay (PMC), polymer clay, fused glass, copper enameling and, of course, beads. 

Beads of all types are Carol's first love when it comes to artistry and she uses them to create personal adornment and to decorative objects of all sorts.  Carol Bauer co-founded the Willamette Valley Bead Artists Guild, has exhibited in various art shows and has been teaching bead weaving for over 12 years.

Carol loves cruising and cruises as often as her busy schedule allows.  Carol feels cruising is truly the best way to travel.

Carol lives in the Pacific Northwest in Olympia, Washington.
BIO ~ Carol Bauer
Carol relocated to Olympia Washington for the soul purpose to obtain a position at Shipwreck Beads, as it was her great desire to work in a creative environment surrounded by billions of dazzling beads.

Carol Bauer has been with Shipwreck Beads for over 12 years and is currently the store manager, human resources manager and bead ambassador.  If you are not familiar with Shipwreck Beads it is the nations largest beading store and it amazes anyone who walks through its doors. The current showroom is over 20,000 square feet and is filled to the ceiling with colorful new ideas.  Shipwreck Beads has more than 3,000 styles, sizes and color options just in Seed Beads alone.   Shipwreck Beads specializes in Czech Glass as well as beads from around the world.  Shipwreck Beads is truly a place of inspiration for all who enter.

Carol Bauer has had her work published in a number of books and twice was a guest designer for Beads Baubles and Jewels a popular PBS television show.
Books ~ Carol Bauer
Carol Bauer has her beadwork in the following publications:
Beading with Peyote Stitch – Jeannette Cook and Vicki Star (2000) - Gallery Piece (page 80)
Beading With Beady Boop – Charlene Hughes, - (1999) Project (page 15)
Dimensional Flowers, Leaves and Vines – Barbara Grainger ((2000) – Project (page 20)
Bead and Button Magazine
Tibbs – Original Pattern – December 1998
Twisted – Project and Technique – August 1998
Affiliations ~ Carol Bauer
Willamette Valley Bead Artists Guild
Education ~ Carol Bauer
Carol has a degree in Veterinary Science Technology and prior to dedicating herself full time to her beading career 12 years ago worked in the Veterinary Sciences for 18 years.