Barry Klein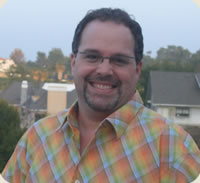 Barry Klein is the owner of Trendsetter Yarns and is one of the biggest sensations in the knitting world.  Barry Klein has been named one of the top 10 most influential men in the world of knitting right along with such multi-talented knitters as Kaffe Fassett and Eugene Bourgeois.  Barry Klein is creative, innovative and fun.  His fiber creations are inventive and diverse making Trendsetter a world leader in the fashion yarn industry.

Barry Klein is a passionate world traveler who will inspire you every moment of your journey with Craft Cruises.  Barry has traveled Europe extensively and loves cruising.  Barry has taught on over 30 cruises specializing in all types of cruise crafts.

Barry Klein resides in Tarzana, California.
BIO ~ Barry Klein
Barry Klein grew up in the needle art industry.  His mother owned a very successful needlework store where Barry learned to needlepoint, knit and crochet from the age of 6 on up.  Barry learned to design knitwear from one of the head industry designers and spent many afternoons at the store helping custom design knitwear for the customers. 

During college, Barry studied business marketing and television arts hoping to go to work in the advertising field.  During college, Barry also worked as a sales agent selling fashion yarns to retail stores along the west coast as well as designing sweaters for Vogue Knitting and some of the companies he represented.  After college, Barry decided that knitting was in his blood and with the help of his mother, they together started Trendsetter Yarns.  Success was instantaneous for Trendsetter Yarns as the passion Barry brought to designing his sweaters translated into designing his yarns brining the name "Trendsetter" to life.

Along with this, Barry has been featured on successful television shows "Knitty Gritty", "Uncommon Threads" and "The Needleart Studio." Many of you may be familiar with Barry and have taken classes with him at Stitches Events or at your local knitting store where Barry has been sharing his many talents with knitters for years.
Books ~ Barry Klein
Since the onset of Trendsetter Yarns, Barry has written 4 knitting books; "Knitting with Novelty Yarns", The Knitter's Template", "The Ultimate Knitted Tee" and "Knitovations."