Anna Zilboorg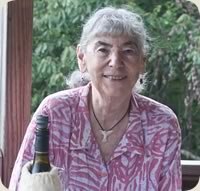 Instructor Website:
Anna Zilboorg sees knitting as a spiritual experience; knitting, and teaching people to knit, brings her happiness. Anna Zilboorg is a very warm, wise, and witty teacher, and refers to her beloved fellow knitters as "sheep people". Anna Zilboorg loves the process of making necessary things beautiful by adding an individual's favorite stitch patterns and how knitting brings people together, uncompetitively and cooperatively, without envy or hierarchy. Anna Zilboorg's love for knitting and people who love knitting is contagious and creates a great atmosphere in Anna's classes and lectures.
BIO ~ Anna Zilboorg
Anna Zilboorg was born and raised in bustling New York City, so it is no wonder that she has secluded herself in the midst of the Blue Ridge Mountains of Virginia. Anna studied at Harvard University and taught at MIT, then decided to leave the crowds of people and wound up in Big Stone Gap, Virginia. Here, Anna Zilboorg found her faith in Episcopalian religion and re-discovered her childhood love of knitting. Anna Zilboorg devotes her life to the love of her knitting and loves to share it with knitters - beginners and veterans alike. Anna Zilboorg is known world-wide as a knitting matriarch and genius.
Books ~ Anna Zilboorg
Anna Zilboorg has written several books including Magnificent Mittens & Socks: The Beauty of Warm Hands and Feet, 45 Fine & Fanciful Hats to Knit, Simply Socks: 45 Traditional Turkish Patterns to Knit, Fancy Feet, Socks for Sandals and Clogs, and Knitting for Anarchists, Anna's most revered book.
Education ~ Anna Zilboorg
Anna earned her education at Harvard University.