Annie Modesitt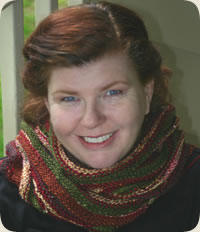 Instructor Website:
Annie Modesitt uses the combination method of knitting and believes there is no wrong way to knit.  Most knitters find it reassuring to know there are many ways to achieve the same results when working with yarn.

Annie Modesitt teaches the combination method of knitting as well as various forms of western knitting techniques.  Annie will teach different ways of forming stitches by converying how a stitch is seated on the needle.

The method a student uses to knit is irrelevant when they participate in more advanced technique classes.   As long as a student can make a knit and a purl stitch, Annie believes it can help them fulfill any knitting passion they posess.


Annie Modesitt lives in St Paul, MN with her husband, kids and assorted pets.
BIO ~ Annie Modesitt
In 1983 Annie Modesitt taught herself to knit.  When she completed her first sweater in a weekend she realized her destiny lay in fiber and needles.

Annie Modesitt began knitting for designers and eventually submitted her own designs to knitting magazines and was soon hired by Vogue Knitting as a technical writer.  Unfortunately Annie's unorthodox, self-taught knitting style wasn't - at that time - well received by the more established knitting world.


Annie Modesitt continued designing for most of the major knitting magazines and yarn companies, but reaction to her style (which does not affect the final look of a garment) led to her decision to move into Costume & Set Design.

After the birth of her 2nd child, during a hiatus from television and theatrical design work, she happened to read an article by Prscilla Gibson Roberts in the Fall 2000 Interweave Knits Magazine. It changed her life. The article was an outline of the major world knitting styles, and the method Annie Modesitt has been using was described as the "Combination (or Combined) Method."

The legitimization Annie Modesitt felt when reading the article was a turning point in her life. She re-entered the knitting world - not just as a designer but as an instructor.

Annie Modesitt's unusual method of knitting has also allowed her a tremendous freedom of scope - She is as comfortable knitting (and teaching how to knit) furniture, fine millinery, basic sweater design or knit embellishments. 
Books ~ Annie Modesitt
Annie Modesitt is the author of Confessions of a Knitting Heretic, Knitting Millinery  and editor of the 2006 Accord Crochet Pattern A Day Calendar and the collection of fiber essays, Cheaper Than Therapy.

Annie has contributed to many knitting books including Stich N' Bitch, Scarf Style, Wrap Style, the Vogue Knitting Book, and Weekend Knitting and Holiday Handknits.  Twist & Loop (Potter Craft, 2006) and Men Who Knit And The Dogs Who Love Them (Lark, Jan 2007).

Annie is also the inventor of the astoundingly clever Flip Knit, a low tech, portable alternative to knitting videos.