5-Night ~ Musk Ox Land Adventure (2018)
Craft Cruises
Musk Ox Land Adventure
Start Date:
May 29, 2018
End Date:
June 3, 2018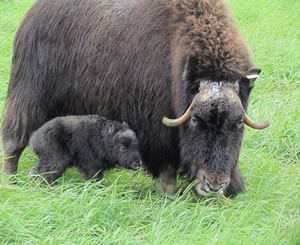 Musk Ox Land Adventure

~ Itinerary
Day 1 (May 29)
Arrival Date:
May 29, 2018
Departure Date:
May 29, 2017
Your adventure begins in Alaska's most captivating city, Fairbanks. Upon arrival you will be met by your local Tour Director, and transferred to your local hotel. Overnight Fairbanks at the SpringHill Suites or similar. Enjoy being in the heart of downtown overlooking the Chena River within walking distance of many excellent restaurants, museums and historical spots. With numerous walking/hiking trails along the river, this is the ideal location to explore Fairbanks.
Day 2 (May 30)
Arrival Date:
May 30, 2018
Departure Date:
May 30, 2018
After breakfast the fiber fun begins with a morning visit to the Arctic Qiviut fiber mill for a tour and a yarn dyeing demonstration. This afternoon you will continue with a visit at the Large Animal Research Center (LARS). Here you will learn all about muskox as well as other large animals such as caribou and reindeer, which, like the muskox, live in high latitudes. After visiting the research station everyone will enjoy a city tour of Fairbanks including the Trans-Alaska Pipeline where you will have the chance to touch the Trans-Alaska Oil Pipeline. Afterwards, shop for yarn at Northern Threads yarn shop. The tour conclludes with a visit to the Morris Thompson Cultural Center where you will learn all about the cultural history and hand crafts of Alaska before returning to your hotel for the evening.
Day 3 (May 31)
Arrival Date:
May 31, 2018
Departure Date:
May 31, 2018
This morning you will be transferred to the Fairbanks Rail Depot where you will board a deluxe dome rail car for a scenic transfer south to Denali National Park, home to six million acres of pristine wilderness and Denali, the highest mountain in North America at 20,310 feet. Onboard everyone will enjoy a gourmet breakfast on the rails while viewing stunning scenery out the window. Upon arrival everyone will visit the Husky Homestead, home of four-time Iditarod champ Jeff King. Here you will get to snuggle some of the cutest puppies in Alaska, learn all about the "last great race" and meet Jeff's team of champion sled dogs. Next everyone will transfer to your hotel in the Denali Village.
Day 4 (June 1)
Arrival Date:
June 1, 2018
Departure Date:
June 1, 2018
After a hearty breakfast at the hotel everyone will get an early start to travel deep into Denali National Park on the Tundra Wilderness Tour and search the vast wilderness for bears, moose, caribou, and Dall sheep. This seven to nine hour journey is narrated allowing for insight into the animals as well as the flora and fauna of this unique region. A snack is included on board. Upon returning to the Denali Village everyone will be able to participate in optional tours including flight-seeing, rafting, or guided hiking as well as visiting the Denali National Park Visitor Center to learn more about this amazing place.
Day 5 (June 2)
Arrival Date:
June 2, 2018
Departure Date:
June 2, 2018
After breakfast, board a deluxe motorcoach for a scenic drive to Palmer where you will enjoy a tour of the Musk Ox Farm. At the farm you will observe these Ice Age animals and numerous springtime babies at close range and learn all about their history and underwool (qiviut). Afterwards you'll enjoy shopping for yarn at the Tangled Skein in Eagle River before settling into your hotel in Anchorage Hotel (or similar). Following dinner, shop for locally dyed yarn at the brand Wooly Mammoth shop in downtown Anchorage.
Day 6 (June 3)
Arrival Date:
June 3, 2018
Departure Date:
June 3, 2018
This morning visit Oomingmak to shop for hand knit items, learn about the Alaskan lace-knitters and shop for qiviut. For those on the 5-night land tour your adventure ends in Anchorage and for those continuing their journey on the 7-night knitting cruise your adventure continues over the Kenai Peninsula and Seward before embarking onboard the ms Westerdam. En-route to the ship, enjoy an included visit to the Alaska Wildlife Conservation Center where you will have a chance to see Alaska's wildlife up close. Upon arrival into Seward stop at the Flyin' Skein yarn shop before being transferred to the ms Westerdam which will be docked at the Seward Cruise Terminal.